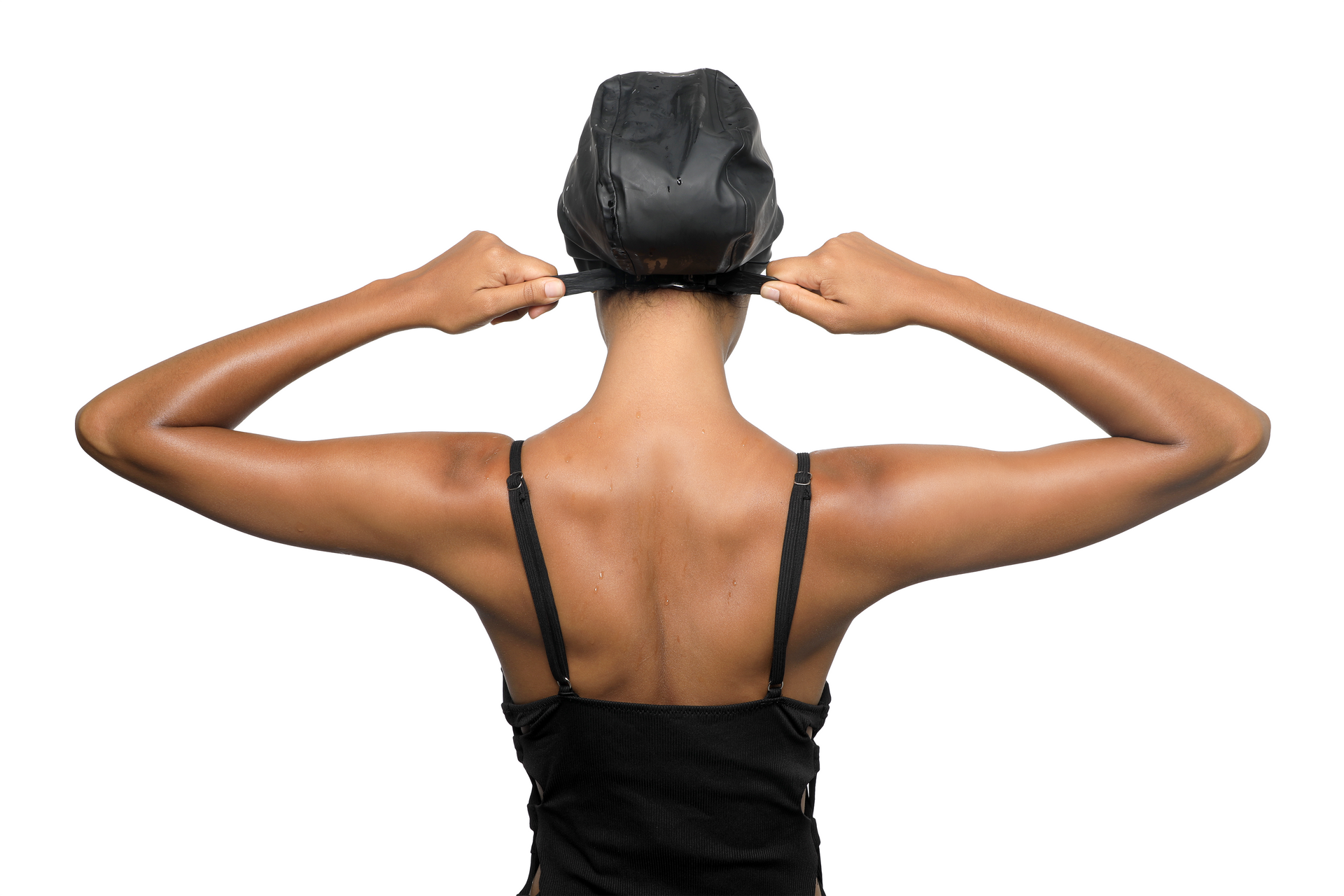 Swim Cap Tutorial Video and FAQs
Here's a quick 
instructional video
 on how to put the Hairbrella Swim Cap on and ensure that it is secure to keep water out. 
🌟
 

How to put on the Hairbrella swim cap:
1. Press the button on the clasp to open it.
2. Gather your hair into a low ponytail or bun.

3. Pop the cap on at the back of your head, then pull it forward over your hair.

4. Tuck in any straggly hairs to keep it all secure.

5. Fasten the clasp until it goes "click" (that's the sound of confidence).

6. To avoid any trapped air shenanigans, give the cap a little press down on the crown.

7. Now, for the finishing touch, pull those rubber straps in opposite directions for 3-5 seconds, once you feel it tightening, repeat this again from the part of the strap closest to the clasp and voilà! You're swim-ready and water-resistant! 🌊
Pro tip: while some customers are able to secure the cap with ears in, leaving ears out provides a fail safe fit!


Also, I wanted to say thank you for making our launch a huge success!

We are already on our third shipment due to demand and the feedback from you all has been absolutely amazing! 🥰

I can't tell you how thrilled I am that you love it as much as I do! 😍

There were also a few questions that have come in, so let me answer some of those as well:

🚿 Post-Swim Care:

Rinse your Hairbrella Swim Cap with cold water and let it air dry naturally. It'll be ready for your next aquatic adventure in no time! 🌬️💨

📏 Sizes:

For Kids: Yes! Kids 10+ wear the standard size comfortably. Kids under 10 and toddler sizes are coming soon! 😉


Meet Liana. She's 6 and modeling the adult classic. It works well, but the kids size will be even better! Coming soon.

For Extensions, Braids and Locs: Absolutely! The model below is wearing the classic size, but if you have thicker braids or locs, the XL will be the perfect fit.
Model is wearing a classic size. If you have thicker braids or locs, the XL will be a great fit.

That's all for now! But please keep spreading the word and send us videos or tag us on social so that we can feature you! 📸

If you have any other questions or feedback, drop us a line at hereforyou@hairbrella.com, and we'll be more than happy to assist.